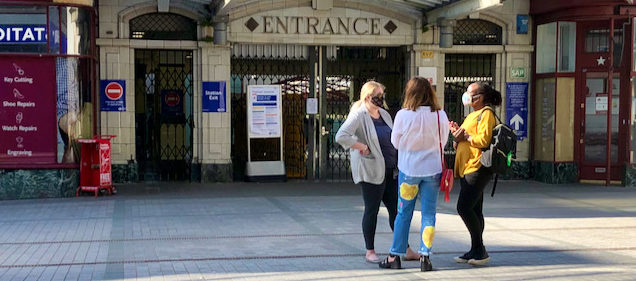 If you weren't sure whether field trips have value, all you needed to do this spring was walk by one – and they are re-appearing, slowly but surely. Beyond the classic pointing, photo-snapping and chatting on the move, the real 'tell' has been the unabashed grins at reconnecting face-to-face.
We are drowning in debate over how we should meet for work, if and when people come in at all. If we can avoid fatiguing community groups, council teams or developers, field trips are a great way to surface.
Good visits bring urban problems and solutions to life; give local people a stronger voice; let guests share ideas, ideally with people they don't know (now including co-workers); and can give junior or less visible team members a manageable project to own. The organisations I work with also avoid nametags, which flattens hierarchy, calms the business development imperative and produces more honest conversations.
Now, amidst astonishingly vague COVID guidelines, field trips have even more value – outdoors and easily spaced, they can be a way to connect 'live' without formal focus on core content, so those who miss team or course outings don't miss out on essentials.
And some will stay away. COVID-linked obstacles can include travel concerns, health vulnerability or care for others, and some won't disappear when the PM calls the 'all clear' – they may always have been issues, just with less permission to decline before the pandemic. As employers and hosts, we need to shuffle our thinking to allow for this, and find ways to bring people back willingly.
Here are a few types of trip we've co-hosted recently:
Future of London was one of the first organisations to take courses and events online, and I'm proud that we were one of the first to re-start field trips. You can find summaries of recent walkabouts with London Leaders Plus here and Greater Manchester Leaders Plus here.
These visits were less formal than usual, offered partly to connect cohorts who've never met. Still, they covered a lot of ground, from how major projects like Ancoats and King's Cross are bedding in, to options for greening central Manchester and understanding how the Gay Village might evolve. Huge thanks to our hosts – mostly Leaders candidates and alumni – from Argent, Hatch, Arup, Manchester City Council, Homes England and U+I.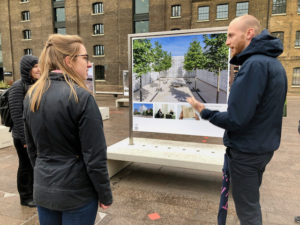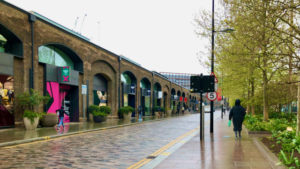 .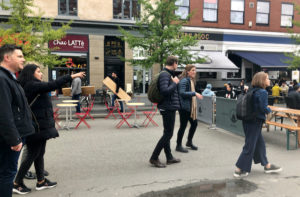 With my Coherent Cities hat on, I also co-hosted a visit organised by LB Camden with the Camley Street Steering Group. it was a well-considered tour with just enough flex, where local residents and business owners shared insight and concerns for this King's Cross-adjacent area, set to undergo major change. This group may never see eye-to-eye on key aspects of the regeneration, but built up a stock of respect since launching in February 2020, and all were keen to see each other in person.
Feilden Clegg Bradley Studios, the project design team, provided user-friendly materials and joined as participants, along with two Kickstarters who coordinated everything. The itinerary was just 1.5hrs long across short distances and the Camden Garden Centre café provided a place to comment on maps and for a disabled councillor to both participate and hear all the findings. The weather was mad, but it was an enjoyable, eye-opening visit that also led to a fruitful Zoom discussion with members who couldn't join.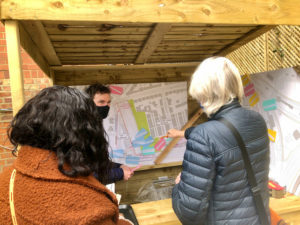 Finally, I'm on the steering group of Placemaking Collective UK, a loose-knit volunteer group of placemaking practitioners and fans from all sorts of disciplines. PCUK hosts field trips every two months, alternating between London and other cities, and we've visited Bristol, Manchester and Brighton as well as Wembley, Croydon and Poplar. PCUK uses a free membership system and Eventbrite registration, with trips led by peers involved in projects in each place, ending with discussion at a pub and followed by a write-up. Guests come from across the UK, which makes for great best practice-sharing – and given the jump in membership, clearly there's appetite!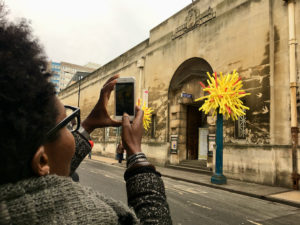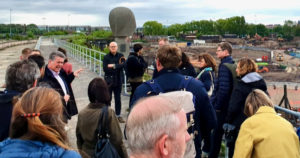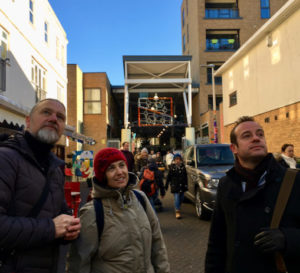 However field trips are delivered, the keys to successful ones seem to be:
Enough organisation so hosts and guests are comfortable (and can find you!)
Enough informality so people don't feel constrained or intimidated by expertise
A manageable group size and/or a max 1:10 ratio of hosts to guests
Quiet spots to hear people speak – shocking how loud it is out there in the world!
Not selling (at least overtly): single-site visits by host developers or councils bring scepticism; broaden the offer and be open to tough questions.
Respect for all involved, e.g. considering accessibility, providing user-friendly materials, offering a café wrap-up as an alternative to a pub – and actively listening to each other!
As a host or guest, hope to see you out there soon!